Sunday Mornings
9:30 AM – Drive-In Church/Front Parking Lot
9:30 AM – Small Groups
9:30 AM – LiveWire Children's Ministry & 180 Student's Ministry
Wednesday Nights
6:30 PM – Small Groups
6:30 PM – 180 Children's Ministry & Souled-Out Ministry
6:30 PM Wednesday Night Worship –
No Wednesday Night Worship Dec 11th 2019 until Mid-January 2020.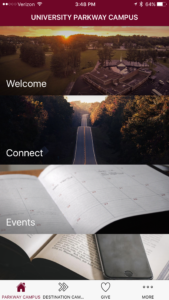 Download our church app from Apple App Store and Google Play by searching "
University Parkway Church
"
Watch our live-stream, take sermon notes, give, and stay up to date on all events.
Join us on Saturday, December 14th, 2019 at 6 p.m.
for a wonderful night of music and worship with Guy Penrod!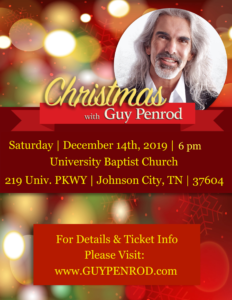 Seating is limited so get your tickets today!
UPCOMING EVENTS
No Wednesday Services
11/27 &

12/25 & 1/1/20
Thanksgiving Holidays/Office Closed
11/28-29
Children's Christmas Caroling

12/4


Senior Adult Lunch & Fellowship

12/5


Food Pantry Distribution

12/14


Youth & Children's Christmas Party

12/14


Drive-In Church Christmas Eve Service 12/24




Christmas Holidays/Offices Closed

12/23-1/1