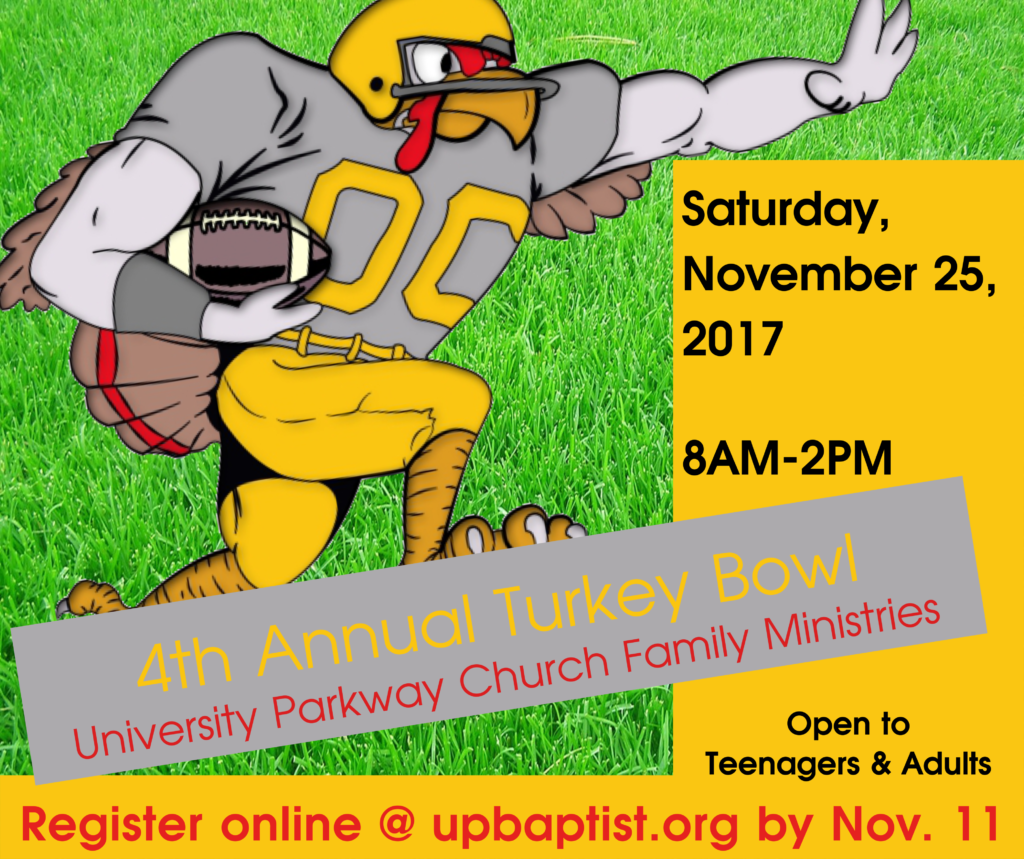 It is time for our Annual Flag Football Tournament Turkey Bowl. Please fill out the form below to register for this awesome event!!! Entry Fee is $15 per participant. Frequently Asked Questions can be found below.
Saturday, November 25, 2017 8:00AM-2PM
Team Rosters will be posted November 15, 2017
Each Team is Guaranteed 2 Games
Tournament Schedule will be posted November 15, 2017
Entry Fee must be paid no later than November 11, 2017
Participant Swag
Turkey Bowl T-Shirt
1st Place Name on Championship Trophy
Participation Medals
2 Game Guarantee
Entry Fee
Frequently Asked Questions:
Q: Can I choose who is on my team?
A: No, teams will divided up randomly based on skill, age. This is done to create the most even paying field possible to ensure everyone has a fun, competitive time.
Q: I have a family member that I need to be on the same team with for carpool reasons, is this possible?
A: We will do our best accommodate car pool requests. If this is your situation please note in the additional comments section of the registration form. Both participants will need to note this to be considered. However, these requests are not guaranteed to be met.
Q: Why is the entry fee $15?
A: Noted above you will find everything that is included in the entry fee. The fee covers all of those supplies, field maintenance, and any funds that are left over will go to help fight local hunger.
Q: Can my team practice at other times than the designated 3 that are scheduled?
A: Unfortunately, we only allow teams these three 2 hour practices. While schedule conflicts may interfere with these practices it would be unfair for a team to meet and practice everyday leading up to the event while others can only make these three practices.
Q: What will the game format be?
A: You can find a complete list of rules, regulations, proper ball inflation guidelines, and game format by clicking here.
Q: My family wants to participate, but my child is under 10, can he/she play?
A: Though it is listed as 10 and over, your child may be able to play. This will depend on how many other children his or her age register. We want to ensure that the children have a great time, but also need to ensure they are safe and teams are even. If we do not have enough children to play, they are encouraged to attend the games and cheer on the family members that are playing.
Q: I have a question that is not listed here.
A: If you have a question that is not addressed on this page, please fill out the contact form here, and someone will respond within 48 hours.