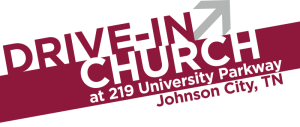 University Parkway's Drive-in Church Sundays at 9:30 AM
What is a drive-in church?
Parkway's Drive-in Church is designed to offer a worship service to people in our region that might not be physically able, or might not be comfortable coming into our building, by worshipping from the comfort of their vehicle.
Why have a drive-in church?
We believe that God would have us as a church do whatever we can to minister to people in our region. At this time, we do not know of any other churches offering a drive-in church, yet!
Will I have to get out of my car?
No, you will be able to stay in the comfort of your car for the entire service.
How will my family hear the service?
As you park in the front of our church, you will be greeted by one of our friendly hosts, and be given a program that will explain the service. You will be able to listen to the service at an audio level comfortable to you and your family right on your car stereo, just like at the drive-in movies!
Who can come to Parkway's Drive-in Church?
The drive in church is for anyone! We welcome people who might have a medical condition that prevents them from being around large crowds of people. Some people may have physical disabilities that make it too difficult to navigate a church facility. Parents with newborn children or children with unique learning challenges will benefit from this type of worship. Senior adults, college students, people who are on-call with their work, people on vacation, people staying in local motels, and families could stop by the Drive-in Church on their way to the lake, dressed as they like.
Will the Drive-in Church offer a time for people to contribute to the ministries of University Parkway?
Yes, there will be a time for an offering, but no one has to give. If you would like to give, simply roll down your window as one of our hosts come by and you can drop a check or cash in the bucket. Some people choose to give online through our secure website at upbaptist.org. If you choose not to give at this time, that's no problem, it's up to you, no pressure and you will not be put on the spot.
What can our family expect at the Drive-in Church Service on Sundays at 9:30 AM?
You and your family can expect a friendly welcome, live contemporary music from our Parkway Worship Band. You will be given the words to the songs so you and your family can sing along as you worship. One of our Pastors will share a short message from the Bible that will inspire you and your family.
What will I see?
The first thing you will see is our guest services personnel providing you with a program for the service. After you park you will tune your FM radio to the designated station. You will be listening to our band playing live music inside the church. The band equipment is too much to bring in and out! Our 11:00 AM service is inside, if you want to see the band. One of our Pastors will be in person outside every Sunday rain or shine to share the message. You will see one of our hosts receiving the offering. No jumbo-tron screens or popcorn J But you can bring breakfast and drinks for your family if you would like!
Will our family be able to take advantage of all the activities at University Parkway Church?
We would love to have your family connected to any of our small groups from babies to senior adults. We also have over 25 different ministries to help people in our community.
Can people that come to the Drive-in Church join the University Parkway family?
Yes, One of our pastors will share each week how to become a follower of Jesus Christ, as well as how to join the University Parkway Church Family.